Hello everyone! Great to be back and nearly Christmas.
What has been happening at the Alhambra Hotel? Well…even with the November Lockdown in London, we have managed to remain open and ensure that we continue our mission to provide a safe and clean environment and Covid19 Free by following the latest government guidelines.
We hope to see you in the coming  months, as restrictions ease, and to be able to welcome you at some point with a visible smile to show our gratitude.
1. Why not take advantage of our special Christmas Promotion ?
Now On…
. From 1st December until 31st March 2021
. EXTRA 10% DISCOUNT on all Room Types
. Includes Weekdays and Weekends
. Excludes Weekly, Monthly and Quarantine Rates
. Subject to Availability
Click Add Promo Code on the availability page and simply type WINTER1 to get an EXTRA 10% OFF!
2. Coming in 2021…*** NEW***Breakfast Box 
Guests will have the opportunity to purchase in advance or at reception a Take-Away Breakfast Box to Eat-In or Out.  Adult & Child Breakfast boxes will be available. The Adult box will possibly feature: Muffin, Croissant with Butter & Jam, fresh fruit, Cereal, Juice, Yoghurt and Granola Bar. The Child box will possibly feature Pain-au-Chocolat, Cereal, Fresh Fruit, Juice and a Chocolate bar. Tell us what you think and any other ideas!
Now, lets all get into the Christmas Spirit!
3. Christmas Lights in London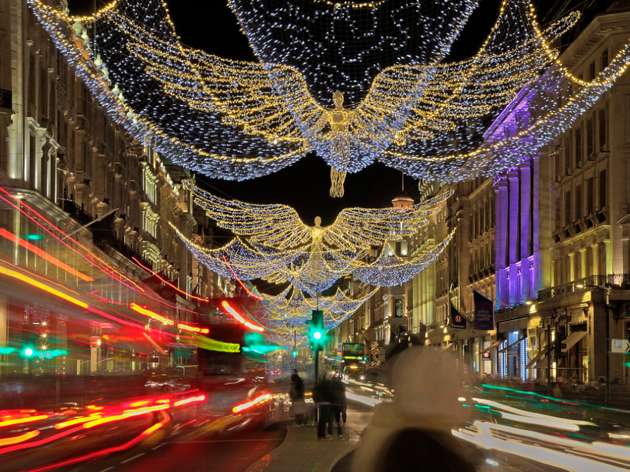 Oxford Street- until 6th January 2021
Things have been a little quiet on the Christmas lights front this year, but the Oxford Street sparklers will be making a return in November, with a few tweaks. This year, the area will be lit with 27 LED 'light curtains' which will be draped down the length of the street and made up of a total of 222,000 lights. The installations will work in unison to showcase a poem dedicated to the city of London.
Sadly, due to safety restrictions, there will be no big crowded celebrity switch-on. As a small compensation, the lights will be arriving on the street earlier than usual in 2020.
Carnaby Street – until 5th January 2021
This year Carnaby has collaborated with Choose Love, a charity from Help Refugees, which is the world's only shop selling real gifts for refugees. As well as a Choose Love pop-up shop, which will be at 24 Carnaby Street for the duration of the festive period, the street will also be bathed in pink neon light from a series of lightboxes running the length of the thoroughfare. Each box will have a positive word inside, to pay tribute to the strength, courage and kindness of Londoners during this difficult year.
Regent Street – until 4th January 2021
The grand shopping sweep gets its usual festive makeover with garlands of lights down the length of the road.
Covent Garden – until 5th January 2021
Even in the hellscape that is 2020, Covent Garden's cobbled piazza and market buildings will still be looking irresistible this winter. Get ready for another huge 60ft hand-picked Christmas tree glowing with 30,000 festive lights and 115,000 lights sparkling across the Piazza and its adjoining streets. The lights will be glowing from November 10.
Recommended to see in Kings Cross
A giant terrarium Christmas tree will light up King's Cross this winter
The tree will be made up of 70 glass micro-gardens.
The stretch of King's Cross from Granary Square to Coal Drops Yard is a curious part of London. It's home to some quite open and accessible public spaces, as well as a lot of high-end artisanal shops where you're terrified you might break something. When Christmas rolls around, the area tends to use the holiday as a showcase for its resident designer businesses, as well as local architecture studios, which means its Christmas tree is more likely to be a wacky multicoloured cone installation than a traditional Norwegian spruce.
This year, King's Cross will have not one but three elaborate trees. The upmarket Coal Drops Yard shop Botanical Boys has designed The Terrarium Tree, a 28-foot structure made up of 70 little terrariums that will be lit up at night. Each glass orb will house its own micro-garden that will be reflected in the tree's 168 mirrored baubles. The plan is that the core structure of the tree will be reusable in future and each terrarium will be re-homed in 2021.
A Christmas Message from the Alhambra Hotel
As you consider planning your next holidays in London, on behalf of the Alhambra Hotel, I want to thank you for the support you have shown over the past 11 months and for the trust you continue to place on us. We never take your loyalty for granted and without you our business would not be operating. We will continue to keep you safe, and we hope that with your support, the Alhambra Hotel will rise again in 2021.
We wish you and your families a Merry Christmas and a Happy New Year…