Welcome back everyone! It is official! London is finally re-emerging from Lockdown. The reopening of the city makes the return of things that once felt so familiar to us feel like spontaneous holiday discoveries. Here is my guide to all the places to go in Kings Cross and month events in June 2021:
. ALFRESCO DINING AT KING'S CROSS
Here are the best spots for outdoor eating and drinking at King's Cross
Where to dine alfresco at King's Cross
You are spoilt for choice for post-lockdown alfresco get-togethers at King's Cross. Most of the restaurants have gorgeous outdoor terraces on leafy parks and squares, some overlooking the canal. What's more, the neighbourhood is blissfully traffic-free. Here is the listing of all your outdoor dining options with links to bookings.
Parrillan
Perched among the greenery on the upper level of Coal Drops Yard is Spanish alfresco terrace bar and grill, Parrillan. The hook here is the 'parillas': mini charcoal grills with white-hot coats that are brought to your table for you to cook your own ingredients. Elegant slices of beef picanha, fat bright red carabinero prawns and juicy red peppers are all pre-seasoned and ready for you to chargrill and bring out that mouth-watering deliciousness.
If you'd rather have someone else do the cooking (and with Barrafina's executive chef Angel Zapata Martin in the kitchen, it's a respectable choice) there are 'para picas', or small plates to choose from. The drinks list is well worth a mention too, if only for how hard it works to showcase Spanish produce. Choose from elegant cocktails, sherry, vermut, a cracking Spanish gin and tonic list, beers and wine. Book Parrillan here.
Lina in Piazza
Lina Stores is ready to transport you to Italy with its gorgeous al fresco restaurant. Situated just outside its current restaurant, the space is delightfully called Lina in Piazza and is on Lewis Cubitt Square. On the menu, you'll find Lina favourites including antipasti, panini, and (naturally!) lots and lots of fresh homemade pasta. Meanwhile, drinks will be shaken and stirred from the charming Piaggio Ape mobile bar. A gelato cart will join the set-up soon for gelati and sorbetti to go. Book Lina in Piazza here.
Casa and Plaza Pastor
For laidback fun, Plaza Pastor is hard to beat. The heated space is a riot of fun Mexicana colours and the food is deliciously authentic. Plaza Pastor is essentially the outside space of sibling restaurant Casa Pastor but with its own bar, open kitchen and a more laid-back menu. It's a permanent outdoor venue, so it is fully covered – which could make all the difference on a rainy night. Try the classics – tacos, tortillas and fat tortas buns filled with meat and veggies from the robata grill. Drinks are heavy on the tequila – including their own batch mezcal.
The Lighterman
Overlooking the canal, The Lighterman has not one, but three outside eating options, so you can chase the sun all day long. The generous wraparound terrace on the first floor has panoramic views over the square and the canal. If you don't manage to bag a spot here, then you've still got the terrace on Granary Square. Or best of all, the canalside bar right on the towpath. The all-day menu features marinated meat and seafood cooked on a wood-fired grill alongside classics such as the rare breed beef burger and fish & chips. On the drinks front, there's a great seasonal cocktail menu, plus craft beers and well-chosen wines. Book here.
Drake & Morgan
Catch up with your friends, family or colleagues on Drake & Morgan's lovely outdoor terrace overlooking Pancras Square. There are blankets and hot water bottles if a chill should set in, and cocktails are at the ready. Food-wise, the carefully-crafted seasonal menu features everything from sharing platters to burgers, curries and pasta dishes, with plenty for vegetarians, too. Plus, there's usually something fun on the D&M calendar, including Jazz Brunch Sundays. Furry friends are welcome too! Book here.
Hicce
One of the most exciting restaurants at Coal Drops Yard is Hicce, with cooking by Murano-trained chef Pip Lacey. The outdoor space is perched just outside the handsome red-brick vaulted windows, and, according to the Hicce team – offers the finest view of the sunset in the entire city. The terrace has a shorter menu than the main restaurant but acts as a highlight reel of the uber-modern fare served inside. The inventive dishes are mainly wood-fired, with lots of steaming, smoking, and pickling. The beer bread is worth the visit alone. If you're here for liquid refreshments, there is a pretty outdoor bar serving heady cocktails, craft beers, and small-batch wines. Book hicce terrace here.
Granary Square Brasserie – My favorite!
The terrace at Granary Square Brasserie is a gorgeously stylish space, with plump cushions and lots of lush greenery facing onto the square, this year with a tropical theme. The terrace is heated, there are large umbrellas and a stack of blankets available to keep guests feeling toasty. The brasserie serves beautifully cooked classics – in fact, your biggest concern is going to be what to choose from the fairly sizeable but stellar menu. Our insider tip? Whatever you go for, be sure to add on as many sides as you can handle – especially the truffle and parmesan chips. Oh, and the weekend brunch is worth crossing town for, too. Book Granary Square Brasserie terrace here.

Vermuteria
Nestled at the top of Coal Drops Yard, Vermuteria is the charming all-day eatery with a delicious European menu and a head-spinning variety of vermouths. The well-spaced outdoor tables spill into Coal Drops Yard, and the whole area is covered and dotted with heaters. Fat barrels, strings of twinkling lights and lots of potted trees help to create a delightfully cosy atmosphere.

Caravan
Popular eatery Caravan was the first restaurant to open at King's Cross. It was an instant hit and continues to pull the crowds. Dishes draw influence and flavours from around the world and are best enjoyed as small plates made for sharing. The sunny terrace is popular from morning to night. The breakfasts here are excellent and the coffee is roasted daily, in-house. There's no better spot to watch the activity in the square. Book Caravan's terrace here.
The Drop
Coal Drops Yard's elegant wine bar is nestled under the red brick arches at Coal Drops Yard. The outdoor space is covered and warmed with heaters, so it's pleasant to sit out even on a chilly evening. The wine list is unsurprisingly one of the best around, and the food is simple but carefully-sourced, with meats, fine cheeses, breads and fresh oysters served straight from the cart. The Drop is at Unit 22-24 Bagley Walk Arches.
The Coal Office
The heated ground floor terrace at The Coal Office is on the beautifully landscaped Bagley Walk overlooking Coal Drops Yard. Views aside, there's a lot to shout about here. The restaurant is a collaboration between design powerhouse Tom Dixon, who had a hand in every element of the design down to the cutlery, and chef supremo Assaf Granit. Jerusalem-born Granit's vibrant sharing plates are as loud and buzzy as the open kitchen, with influences stretching along the Mediterranean from the Middle East to North Africa. The restaurant is open daily for dinner, and weekends for brunch and dinner. If you're looking to go a little more casual, Coal Office Industry is open daily from 12-19:00 offering delicious Kubalah sandwiches, just-baked bread and pastries with seating on Coal Drops Yard. Book The Coal Office.
Spiritland and Happy Face in the square
Good news for pizza lovers! Happy Face is back at Lewis Cubitt Square with a cute, wood-fired pizza truck. Now you can get your fix of their delicious, authentic Neapolitan pizza and enjoy along with drinks from the outside bar from sister-venue Spiritland. The bar serves beer, wine and cocktails such as a Braybrooke Turbo Shandy and Rhubarb Spagliato. There is seating in the square as well as directly outside Spiritland on Stable Street. Settle in and soak up the vibes.
Arabica
Facing onto Lewis Cubitt Park, the Arabica terrace is perfectly placed to catch the last few rays of sunshine in the evening. The food is modern Middle Eastern, with dishes drawing inspiration from sun-soaked Levantine – hot, fluffy flatbreads, salty halloumi, creamy hummus, smokey aubergine and sweet little jewels of pomegranate, all designed to be shared and very, very moreish. Book Arabica here.
Morty & Bob's
This easy-going Coal Drops Yard venue is the home of the East London sandwich maestros famed for turning the humble grilled cheese into something sublime. This popular spot also offers a brunch bun as well as burgers and chicken club sandwiches. Drinks-wise, there's a selection of cold press juices, excellent coffee, as well as a beer and wine list if you fancy something a little stronger. You'll find outdoor seating both on charming Lower Stable Street and in Coal Drops Yard. Visit the Morty & Bob's website.
Little Creatures
One for the craft beer enthusiasts. Western Australian cult brewer Little Creatures is shining some antipodean sunshine onto the quieter end of King's Cross. The warehouse-style taproom has alfresco seating nestled among the greenery on Lewis Cubitt Park. This brewery is an institution in Australia, having launched in Fremantle just as the craft beer scene was exploding back in the early noughties. Most of the beers will continue to be imported with plenty of Aussie favourites on the menu, but a handful of beers will be created on-site. The all-day menu features pizzas, bowl food and sharing plates, designed for grazing while you sample a few cold ones. Book Little Creatures.
German Gymnasium
German Gymnasium is housed in a Grade II listed building, built in 1865 for the German Gymnastics Society and was the first purpose-built gymnasium in England. Voted the World's Most Beautiful Restaurant in 2016, the building is now home to a stunning split-level restaurant serving hearty Mittel-European inspired dishes and delicious cocktails all day long. The sleek wraparound terrace spans two sides of the building, is covered with large umbrellas and is also heated for when it gets chilly. Serving lunch, dinner and brunch at the weekends with huge wine and cocktail lists to match, this is the place to get your meat and sausage fix! Be sure to leave room for dessert, the Sachertorte and warm Apple Strudel are both top-notch. Book here.
Vinoteca
As you walk up King's Boulevard, you can't miss the striking twisted iron columns of Vinoteca. Inspired by the wine bars of Spain and Italy, the super-comfy seating on Vinoteca's pretty terrace cries out for an evening spent sampling the exceptional wines. Let the knowledgeable staff recommend a glass of something chilled and delicious, and pair it with plate of seasonal flavours. Try the shrimp, fennel and juicy pink grapefruit, or the gorgeously earthy parmigiana. Book Vinoteca terrace here.
Kimchee
In Pancras Square, Kimchee's terrace is a sun trap, catching rays through the day and into the early evening. The contemporary menu is a great introduction to Korean food, with fluffy steamed buns, dumplings, fried chicken wings, hearty Bibimbap sticky rice, and lots of delicious Korean barbecue. Book the Kimchee terrace here.
Hoppers
For anyone missing their fix of home-style Sri Lankan food, fear not: Hoppers now have tables outside, ready to welcome you back from 12 April. Perched between the planters on Goods Way and spilling into Pancras Square, tuck into hoppers (savoury coconutty pancake bowls), kari, and rothu to your heart's content. Book the Hoppers terrace here.
Beer and Burger Store
Beer + Burger have added outdoor seating to their restaurant on York Way. As well as their amazing classics – bacon cheeseburger, chicken burger – there's a vegan patty and a special monthly guest burger, plus fries, gravy, slaw and wings for sides. Beer + Burger also have some of the largest selections of beer in London, with daily rotating taps and hundreds of cans in the fridges, so you've plenty to choose from. Book a table on the terrace here.
. FATHER'S DAY: Sunday 20th June 2021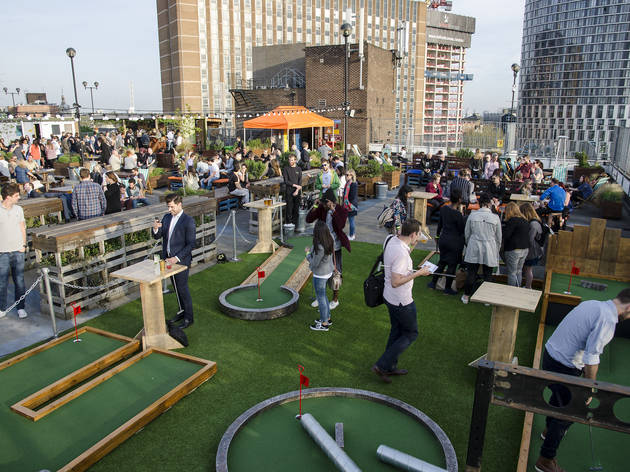 And there you are… lots of reasons to stay at the Alhambra Hotel in Kings Cross, St Pancras
We are looking forward to welcome back everyone this Summer !
See you all in July…
All the best
Bruno-Manager